Shipping & Returns: Free Shipping. All The Time.
EcoFlow DELTA 2 Max Solar Generator
Winner of Red Dot Design Award 2023. 
• Expandable capacity - 2-6kWh expandable capacity to fit your energy storage needs. Add up to two DELTA 2 Max Smart Extra Batteries to hit a capacity of 6144Wh. Ideal for home backup, RVing, outdoors or even everyday use.

• Built to last 6× longer - Get 10 years of daily use until hitting 80% of its original capacity. That's down to its LFP battery chemistry giving you 3000+ cycles.
• Huge AC output - With X-Boost mode get up to 3400W output power to run 99% of home appliances. Power 15 devices at once including 6 AC outlets.
• Fastest recharging - World's fastest AC recharging and X-Stream dual AC+Solar charging speeds. Up to 1000W solar input to charge in as fast as 2.3 hours.
• Capture more energy - 99% MPPT efficiency maximizes solar generation anytime.
• Customized in-app energy management - Prioritize solar or AC charging, view input and output power, battery levels and more.
• 5-Year warranty
10-Year Long-lasting LFP Battery
Durable, Safe, Lightweight
With its upgraded LFP battery chemistry, DELTA 2 Max has a lifespan of 3000 complete cycles until it reduces to 80% capacity. You'll get pretty much 10 years of power, even if you use it every day. That's 6× longer than other power stations with a similar capacity and output.
LFP Battery Chemistry
That's 6× longer than other power stations with a similar capacity and output.
 Advanced BMS Protection
A built-in battery management system regulates vitals, including voltage, current, and temperature, keeping DELTA 2 Max safe, secure, and built to stand the test of time.
 Run 99% of Appliances with X-Boost
Power pretty much anything with up to 3400W Output
DELTA Max powers almost all the devices you need with a large 2400W AC output. With X-Boost proprietary technology, run appliances with an output of up to 3400W. Compared with similar portable power stations, DELTA 2 Max can power more devices while also preventing overloading and overheating.
120V Home Backup: Power through outages
Power your essential appliances with a hefty 2400W AC output by connecting DELTA 2 Max (2kWh) and up to two Smart Extra Batteries (6kWh) with your home's transfer switch for partial home backup. With a plug-and-play design, it's easier than ever to prepare for blackouts.
Power for the entire family
A generous 2048Wh capacity makes DELTA 2 Max ideal for home backup, running your essentials for hours. Using your transfer switch, or plugged in directly, keep your fridge on and stop food from spoiling for up to 14 hours. With its lightweight design, DELTA 2 Max is portable enough to grab and go on the next camping trip.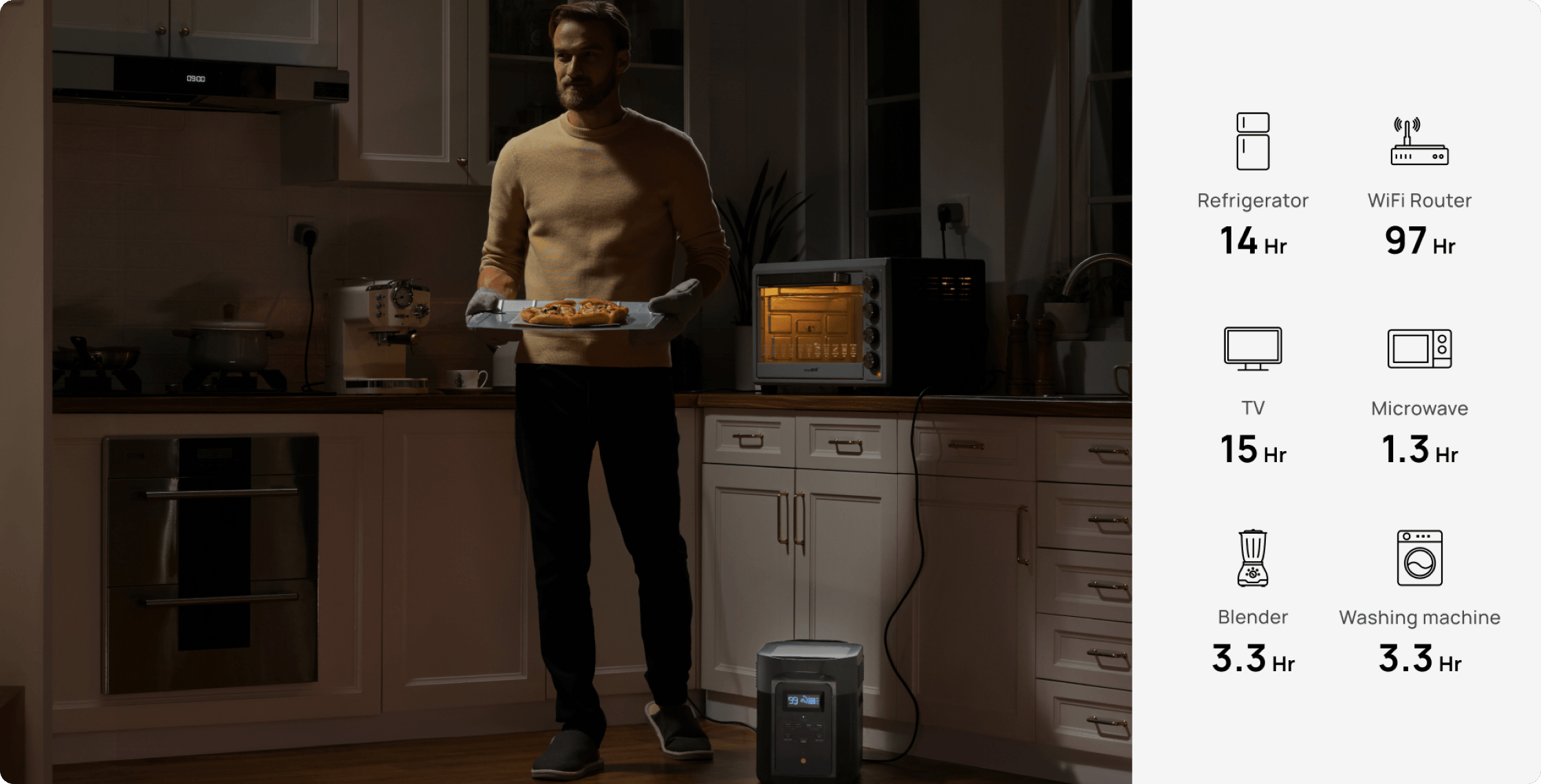 Expandable up to 6kWh
Take DELTA 2 Max with you anywhere as a solo unit or connect it with two Extra Batteries for up to 6kWh of home backup.
 The world's fastest 43 minute AC+solar recharge
Fuel Up 80% in Only 43 Mins*
With DELTA 2 Max's upgraded tech, combine up to 1000W solar input with AC for world-leading charging speeds. In only 43 min get an 80% charge. Or stick with AC for an 80% charge in a speedy 1.1 hour.
*When combined AC and solar input is 2400W using 1800W AC input and a maximum of 600W solar input.
 Dual Solar Input System with Independent MPPT Technology
Maximize solar generation by harnessing multiple PV sources
Maximize the potential of solar energy by simultaneously utilizing multiple photovoltaic (PV) sources with our innovative dual solar input design, each with its independent Maximum Power Point Tracking (MPPT) technology. Enjoy a seamless integration of solar power into your home or business whether you have multiple solar panels or a combination of rooftop and ground-mounted installations, making the most of every ray of sunshine.
Specs
Extra Battery
Supports up to two DELTA 2 Max Smart Extra Batteries / DELTA Max Smart Extra Battery
AC Output
6 outlets, 2400W total (Surge 4800W)
Max Device(s) Power (with X-Boost)
USB-A Output
2 ports, 5V, 2.4A, 12W Max per port
USB-A Fast Charge
2 ports, 5V, 2.4A / 9V, 2A / 12V, 1.5A, 18W Max
USB-C Output
2 ports, 5/9/12/15/20V, 5A, 100W Max per port
Car Power Output
1 port, 12.6V, 10A, 126W Max
DC5521 Output
2 ports, 12.6V, 3A, 38W Max per port
AC Charging
X-stream Fast Charge 1800W, 15A
AC Input Voltage
100-120V~ max. 15A 50Hz/60Hz
Solar Charging
11-60V 15A, single port 500W; dual port 1,000W
Car Charging
Support 12V/24V battery, 8A
EcoFlow WAVE & WAVE 2 & GLACIER & Smart Generator
Cycle Life
3000 cycles to 80+% capacity
Dimensions
497 × 242 × 305 mm /19.6 × 9.5 × 12 in
---
QUESTIONS & ANSWERS
Have a Question?
Be the first to ask a question about this.
Ask a Question